Hamilton entrepreneurs, their businesses and stories behind their success, compliments of The Phinney Team
It is no secret that we are in the midst of a barbershop renaissance. All those fluorescently-lit, linoleum-lined, ten-minute cuts are corner joints of last century have made way for the return of Barbershops. So when we heard Dre Bucci had opened a cafe and barbershop straight outta lockdown on George Street in Hamilton, Ontario, we got in touch to find out more!
As we find ourselves in a wild hurry to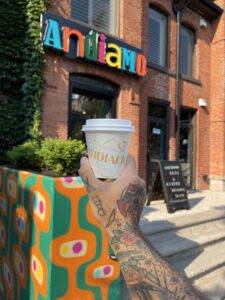 take care of business, it is easy to forget to take care of ourselves. The days of old spoke of a place where locals could go to enjoy the company of friends and quench their thirst – all the while getting the best scissor-cut in town. In Dre's Life, growing up in Italian culture, customer service, barbering, and hospitality has always been at the forefront. "I've always dreamed of combining all of those into one establishment. I also love coffee. "With the support of his wife Jordyn, his parents, and mentors, Dre Bucci found a gap in the market and opened a coffee and barbershop in Hess Village called Andiamo. Historic yet modem, with an exposed brick wall, colourful niches, uber-cool custom barber chairs, with family history hung on the wall.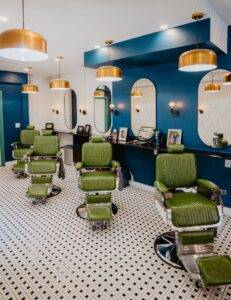 The couple also teamed up with one of Hamilton's favourite artists Jordan Warmington to bring some life to this concrete planter wall! Grab a coffee from a walk-up window, or come inside for a cut, coffee, and a cannoli from the famous Sam's Queenston Bakery. Andiamo will also be serving Italian Craft and Italian Cocktails, now that they have their liquor licence.
Dre grew up in Hamilton, and many locals remember Dre manning the scissors at Architect Hair Design. His father owned a business in Hamilton for 3o years, and his uncle Santo owned a barbershop on James Street. Proud of his city, he knew when it came time, he would also open his first business in Hamilton. Dre humbly
attributes his successes to the generous support of family, and mentors but one can't help noticing that Dre's own patience and perseverance have also been a large part of his success. A new father this year, while opening a business on the heels of a pandemic, has not been easy. The price increases on building material and lots of red tape involved in building approvals and timelines have added to the struggle during Covid. Throughout it all, he is reminded again and again how generous people tend to be when you simply reveal what you need and ask for advice. He has built a supportive team in the process.
"Countless people will try to tell you that it's a bad idea, tune out the noise, take the risk and find out for yourself or you'll always wonder what if."
Andiamo is an Italian word that translates to 'let's go'. So, let's do just that – contact Dre for your next-level look, bring your partner, family, and friends. Arrive early and ask for an Affogato – a scoop of Italian ice cream drowned in a shot of espresso – it could be the best thing you've done all year!
102 George St, Hamilton
andiamohamont.com
@andiamohamont.com